+
+
Words are powerful. Wear these bracelets to bring you strength on your journey. Spread the love and pay it forward by sharing them with people who may need to hear these words.
FIT
Mantrabands are fully adjustable and will fit most wrist sizes. We designed them to be delicate, lightweight, comfortable and durable, so you can wear them daily, to work or play. Our bracelets are made of hypoallergenic, lead free, and tarnish resistant stainless steel.
Gold Mantrabands are made with the same strong, tarnish resistant material as our silver bands, with a thick overlay of 18K gold. With proper care, gold plated bands will last a long time.
CARE
To clean, wipe with soft cloth. Avoid frequent contact with strong chemicals, such as detergent, bleach, perfume, etc. Store in a jewelry box or soft cloth. Always remember to remove your gold bands before shower or exercise. Do not wear them in hot tubs or swimming pools.
Standard shipping is free on all domestic (US) orders. We also offer free shipping on most international orders with minimum order amount of 100USD. Delivery times are shown on the checkout page and are in addition to the 1-2 day processing time. You will receive a shipment confirmation email with tracking number when your order is shipped.
We stand behind our products.
If you are not completely satisfied with your purchase, send it back within 30 days for a full refund or exchange.
Our bracelets are made of hypoallergenic, tarnish resistant, lead free stainless steel. Gold and rose gold bracelets are 18K gold dipped over stainless steel.

Our rings are made of hypoallergenic, tarnish resistant, lead free stainless steel. Each ring comes with an included 24" chain, so you can wear them as a ring or necklace.

Our necklaces are made of .925 sterling silver. Gold and rose gold necklaces are 18K gold dipped over sterling silver. They are lead free and nickel free.

Packaging: Each bracelet, ring, and necklace comes in a gift ready recyclable packaging with an inspirational message describing the mantra on the product. Each message is unique to the mantra.

Nickel: There is a trace amount of nickel in our silver (stainless steel) bracelets, however most people with nickel allergy report no issues. Our rings and necklaces are nickel free.
Love Mantrabands
Discreet - you can wear them to work & play
Fully adjustable to fit your wrist perfectly
Hypoallergenic and tarnish resistant
Lightweight, comfortable, and durable
Mantraband Reviews
Customer Reviews
Write a Review
Ask a Question
Filter Reviews:
mantras
purchase
love
meaning
order
inspiration
moments
strength
emotions
culture
AC
05/23/2020
Alexandria C.
United States
Perfect for Mother's Day
My grandmother absolutely loved this!
05/03/2020
Melissa M.
United States
Love the Bands
Overall Great experience. Personal thank you message was nice and a follow up to my email. I got the bands quickly. I do love them. Looking fwd to another purchase in the future.
04/24/2020
Jamie H.
United States
My Mantra
Timely that you ask for my feedback. Here is an instagram post from the day I received my order. Sorry in advance for the length. My #mantrabands are something I wear daily, and have for years. I find the messages to be inspiring throughout my days. The other day I felt that I needed some new mantras as I am wrapping my mind and heart around our current situation (or maybe it was the need to shop somewhere other than the grocery store). Or both. Either way, I found these gems, and they were perfect! A month ago tomorrow Nick, Carter and I left Hawai'i. When we got into the car that picked us up at the hotel, We knew we were coming back to crazy, but didn't really have a true understanding of what that meant. The drive to the airport was filled with such inspiration. Our driver told us the story of his family and the Hawaiian culture and that his goal is to spread the aloha , spread the love. For 30 minutes all 3 of us hung onto every word he said. His one worry about the whole situation (that hadn't even hit Hawaii yet) was that the young Hawaiian children were going to miss out on the power of touch. Hugs are a huge part of his culture and wrapping his head around how that may be lost weighed heavy on him. When we got out of the car at the airport, he left us with a big smile, a giant handshake and a charge to spread the aloha. Over the last month, Nick, Carter and I have frequently revisited the moments in that car. When I saw the aloha ring, I knew I had to have it. When I look at this ring it will remind me of so many thing: my family and the wonderful vacation we were able to enjoy before this pandemic hit, the power of storytelling, how 30 minutes can make a difference that lasts and how each and everyone of us can be a glimpse of hope. I hope on this Friday, an end to a week that I'm sure was filled with many emotions, you remember that we are braver than we believe, stronger than we feel and smart than we think. As long as we take one day at a time and never give up we will get through to the other side. And always, share the aloha. In these crazy times, don't forget to use the things that inspire you to give you the strength you need to lean into the things that challenge you. #findinspirationbeinspiration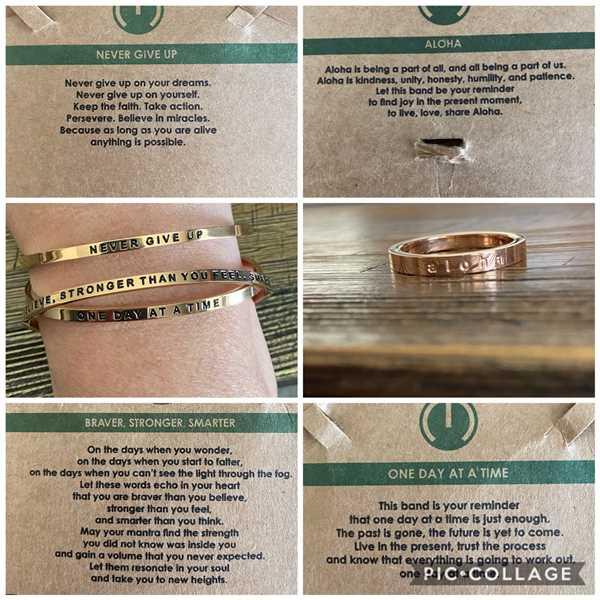 01/03/2020
Roddy N.
United States
12/18/2019
Sarah L.
United States
Perfect set!
Love these beautiful bracelets and the meaning behind them.